April 2019.
Special thanks to Jim and Carmella for sharing their very personal story to inspire and bring hope to those suffering from mental illness.
The road was not an easy one for Jim and Carmella of Toms River. They were both diagnosed with bi-polar disease early in their 20's, and spent several decades struggling to find happiness, success, and peace.
Jim (age 55) started with Preferred Behavioral Health Group (PBHG) when he was 23 in our Interact and DARE programs, but he had difficulty adhering to the guidelines and the structure. In his words: "I bottomed out and continued to drink, which made my mental illness worse – I was in denial." His illness caused paranoia, anxiety, and depression. Over the next decade, he was in and out of psychiatric hospitals; returning regularly to our Interact program (which is a partial care program in Lakewood that runs daily Monday to Friday, providing therapy and services to support those with mental illness). He lost his driver's license due to his drinking and was heavily fined as a result. His last hospitalization was in 2004, and he has spent many years living in a PBHG group home and until recently, a PBHG apartment.
Carmella (age 53) began in a PBHG group home in 1986, but said she left soon after beginning. She returned to her roots in north Jersey but began associating with people that were not a good influence on her. "I spent the next 20 years in my drug addiction and mental illness and ended up in 2005 living in my car," she said. After a hospitalization, she was referred to the Interact program, and slowly began to turn her life around.
Jim and Carmella met in 2005 at a peer-led support center, and their relationship bloomed when they were both in Interact. They got engaged in 2007 and married in 2009!
Jim and Carmella both have a strong work ethic; while in Interact they reached out to learn more about PBHG's Supported Employment and Education program. The Supported Employment program provides individualized service offering help with resumes, interview skills, on and off-site job coaching, and even transportation. Supported Education (offered in Monmouth, Ocean, Cape May and Atlantic counties) supports those interested or enrolled in post-secondary and certificate programs.
Both Jim and Carmella have worked at a number of different jobs, receiving help from the Supported Employment program, and Carmella eventually opened up her own office cleaning business in 2008, "Carmella's Cleaning Crew." Carmella also was encouraged and supported in her efforts to go back to school and she received her Associate's degree in business administration from Ocean County College in 2018. Jim and Carmella now run the business together.
Both eventually needed less support from the Interact program and "graduated" to the StepDown program run in the evenings. A few years ago, they began serving as "Peer Specialists" at the Interact program, because they wanted to help others find their way.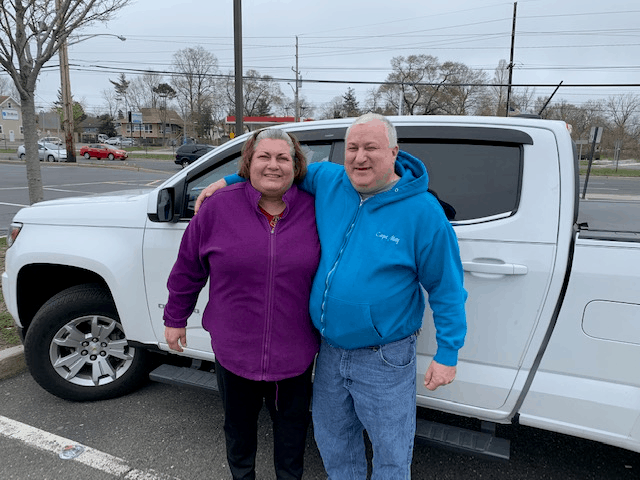 "If I didn't accept the help from Preferred, the way I was going, I'd be dead." said Carmella. "Preferred helped me obtain two of my life goals: to get my college degree and to get married!"
Today, Jim and Carmella are doing very well. Their illnesses are controlled by medication, they are happily married, running their own cleaning business, and they recently moved into a non-PBHG apartment for 55+ seniors in Toms River.
"But this is not where we are going to finish," said Carmela. "I want to continue my education and Jim wants to pursue getting his personal training certificate. We want to grow our business and keep helping others."
For more information on our Supported Employment and Education programs, please contact Jimmy Mezzo at jmezzo@preferredbehavioral.org. For information on our partial care programs, Primetime and Interact, contact Keryn Shane at kshane@preferredbehavioral.org.